Many riders will be backing up from our Saturday TT and will the tired legs change the racing dynamics? June 12 will be a chance to test your Giro form before riders will take a rest break over July. This race is selling out very fast so don't delay in getting your entry in via www.trybooking.com/EQVY
With many crit riders getting their chance to shine in the Cycle Spot HART Starter Crit, Sunday June 5 there will be plenty of riders in good form. You can find out more about this morning of racing at https://manlywarringahcc.org.au/events/cycle-spot-hart-starter/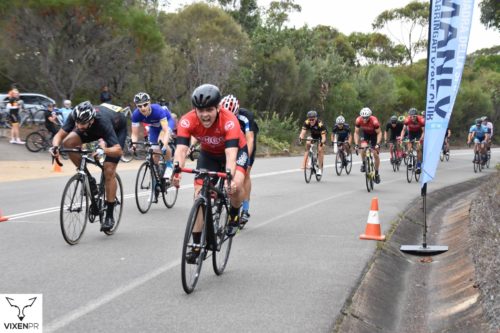 This day of racing will include the U/19 State Championship for road racing. We strongly encourage any eligible riders to enter this race and we know a number of young local riders will be certainly giving this a bit of a shake. Entries for the State Championship are via the Cycling NSW website.
We are having an increasing number of juniors entering our C 2 Grade division and to encourage this further, junior riders under 16 with a racing licence can race for free in this division. Just enter online and select Junior Rider in the C2 Division. This is an MWCC initiative to assist junior riders who are looking for some road racing experience.
Make sure you get your entry in via our online entry form sooner rather than later, entries have opened and already we have close to 50% of the field sold out. Enter online for $25 if you have a racing licence or purchase the day licence for an additional $38. This can all be done via www.trybooking.com/EQVY
There has been a price rise to $25, it seems that the more successful a race becomes the more people put their hand out for a piece of the cut. Often feel like a parent with teenagers. The previous cost was becoming unsustainable and we were only making a very slim margin most months.
Due to the added strain of running the U/19 Championship on the day for our volunteers, there will be no entries accepted on the day if the race does not sell out prior.
We also wish to remind riders that it is an MWCC race request that all riders race in their club kit on race day. If you are in a registered race kit and a registered rider for that kit -as per the NSW Cycling website – then we request that you race in A Grade. If you wish to be in a 'race team' then we think  the most appropriate division is the top level of racing that has a number of race team riders and is one of the few grades where group tactics may come into play. If you feel that this is an unreasonable request, then please respect our rules and don't enter. We are happy to follow your rules at your club events, we request that you follow ours. If you don't have a club kit from your club, then a plain white or black jersey is acceptable.
All riders will sign on at Elvina Walking Track Car Park. If you choose to drive into the Park and park on West Head Road, please note that you will be under a controlled and restricted road until the race has finished.
The race course starts at Elvina Walking Track, riders will roll out and head south back towards Akuna Bay, however rather than turn at the junction, riders will turn at the crest of the hill and then make their way out to the usual turn around point.
The entry fee is $25 for Racing Licence riders.
We encourage all riders to read our article on racing safely – https://manlywarringahcc.org.au/article/racing-for-the-win-safely/#more-1945
Our races have a history of being incident free and we want to maintain that record. Remember that you are in control of your front wheel. Keep your brain switched on.
GRADING
A Elite is a 4 lap race that will start at 7:20am. This grade is suitable for those riders who are strong A Grade riders in other races across Sydney, riders who are riding in either NRS teams, development teams or private race teams. Riders should be experienced and are looking for a very competitive and high class field. Race distance approximately 89km.
A Grade Dreamers. (7:30am) This will be a 3 lap race. This grade is for those who are stepping up from B Grade or want to be able to call themselves an A Grader at the coffee shop without actually having the true ability of the true A Grade racers. Race distance approximately 65km.
B Grade (7:32 and 7:35am) is a 3 lap event. Approx 65km. There are two grades, both exactly the same. Simply split to allow appropriate grade numbers. Same course, same prize money.
C Grade (7:40am) is a two lap event. Approx 45km.
C 2 Grade (7:45am) this is a two lap event. Suitable for inexperienced or junior riders who if they have a race licence can race for free. Suitable for those may also consider that their racing career is entering its twilight years. We use to call it D Grade but no one would enter, but C 2 Grade is more popular.
ALL GRADES RACE FROM THE ROLL OUT, THERE IS NO NEUTRAL SECTION
All riders must show a current 2016 Racing Licence or purchase a One Day Racing Licence and an approved Australian Standards Helmet at the sign on.
Our Subaru Road Race will be signing on from 7am for all grades at the Elvina Walking Track Carpark. If you pre enter please ensure you arrive at a minimum 10 minutes before your race start.
If you haven't raced before but are considering it – our guide to entering may be of some assistance. https://manlywarringahcc.org.au/news/racing-how-to-enter-and-what-to-expect-a-beginners-guide/
Our prestigious road race can send your heart rate rocketing from the roll out, so we do encourage riders to be warmed up and recommend that you consider parking around Terrey Hills and riding into the park, to ensure that you have had a good warm up prior to race start. Please be cautious on the descent down into the Park.
The start/finish line and presentation area is located at the Elvina Walking Track Car park on West Head Road.
We would request that you do not park in the Elvina Walking Track car park – this not only assists our marshalls when they head up there to set up for the finish, but also assists with our relations with the National Parks. This also gives riders more room to hang around in post race.
Essential Details:
$25 Entry – with a Gold 2016 licence. Day licences additional $38.
Race Date: 12 June 2016
Race start time is 7:20am. Sign on from 7am.
Race sign on and start is Elvina Walking Track, West Head Road.
All clubs and riders welcome.
PRE ENTRY DETAILS
www.trybooking.com/EQVY for June 12
Entries for the June 11 TT are via www.trybooking.com/LLEW
Entries are now open for all riders. NSW Championship riders enter via Cycling NSW.
By pre registering, you are ensuring your entry and then on the day you will just turn up a minimum 10 minutes before race start, sign the sheet and grab a number. If a grade is advertised as sold out, that is exactly what it means – no spots will be available on the day.
If you use gel or energy wrappers, please put your empty wrappers in your pockets and take them home with you. The National Park is not a rubbish dump.