This year the Club has had a focus on developing young junior riders within the club. We have run successful and well attended bike skill days up at Terrey Hills and we are now starting to see some of those members commence racing at a junior level. We hope that many more juniors start riding in the MWCC colours.
The club has looked to expand its offering for junior riders in 2014, with the club in the past providing little to its junior members, although this hasn't stopped Shaun Falzarano being named the NSW U/17 Road Rider of the year just recently. To bulk up its efforts we now have two club members who are focusing their efforts on increasing junior participation. Both Dave Watkinson and Evan Snow already spend their days shaping the minds of our youth in the classroom, so they are taking that practical experience out onto two wheels.
If your child is keen to participate and they purchase a junior licence either to just practice with an appropriate level of insurance, they can purchase a recreational licence for $30, if they would like to do some racing and have all of the required insurance and licence then they will need to have a racing licence $80. These can be purchased from Cycling Australia – www.cycling.org.au
We have a bit of a riding update from some of our junior riders below:
After a winter hacking through the mud at Terry Hills our KIDZ are having a go at Triathlons and criterium racing.Our newest members Abby and Chelsea joined Lexi, following their mums at the Forster Triathlon, placing in the top 3 in the Under 9's and Under 11's.
After some negotiations with dad's (who can race after the KIDZ) a trip to Heffron Park was planned. To everyones surprise the well oiled Randwick Botany CC KIDZ were having Team Time Trial practice for upcoming championships. Putting their extensive Triathlon experience to good use our girls, rode 2 trials, finishing together strongly as a group!With fizzy pop earned, dad's could race with the cutest cheerleader team ever!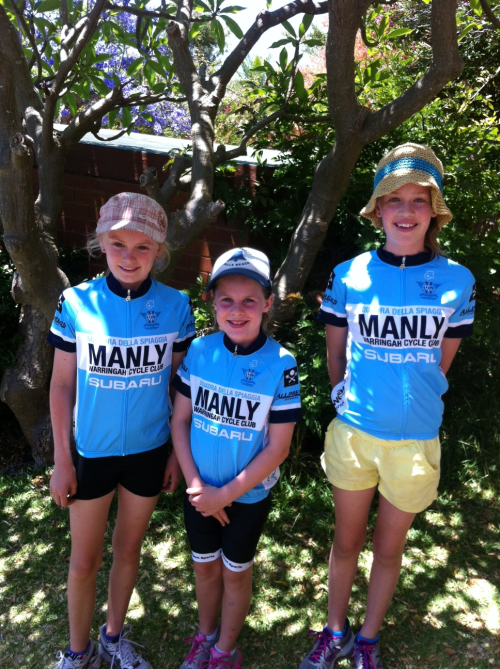 We are keen to get as many KIDZ as we can having a go, and will have more of our popular KIDZ days at Terry Hills in the New Year. In the meantime, we will be taking KIDZ over to Heffron Park, where they can race on a safe car free circuit, with riders from Randwick Botany, Eastern Suburbs, Dulwich Hill and Lidcombe Auburn clubs.
KIDZ need to join Cycling Australia with a U13 licence, and we will equip them with a club jersey and loan of a racing bike to race. Please contact Dave Watkinson for details