The Manly Warringah Cyclocross National Series rounds are rapidly approaching on June 23 and 24. Here is the Technical Guide of all riders which should provide you with all of the necessary information for the weekends racing. UPDATED RACING SCHEDULE ENCLOSED
MWCC 2018 Cyclo-Cross National Series. Rounds 3 & 4.
Date: Saturday 23rd & Sunday 24th June, 2018
Location: JJ Melbourne Hills Memorial Reserve, Terrey Hills, New South Wales
UCI Class: NA
Facebook Event Page:  https://www.facebook.com/events/583584135357783/
Official Hashtag: #NCXS18
#MWCCCX
COMMISSAIRE APPOINTMENTS
President of the Commissaire Panel: Darryl Cram (MTBA)
Commissaire Panel: Mark Welsh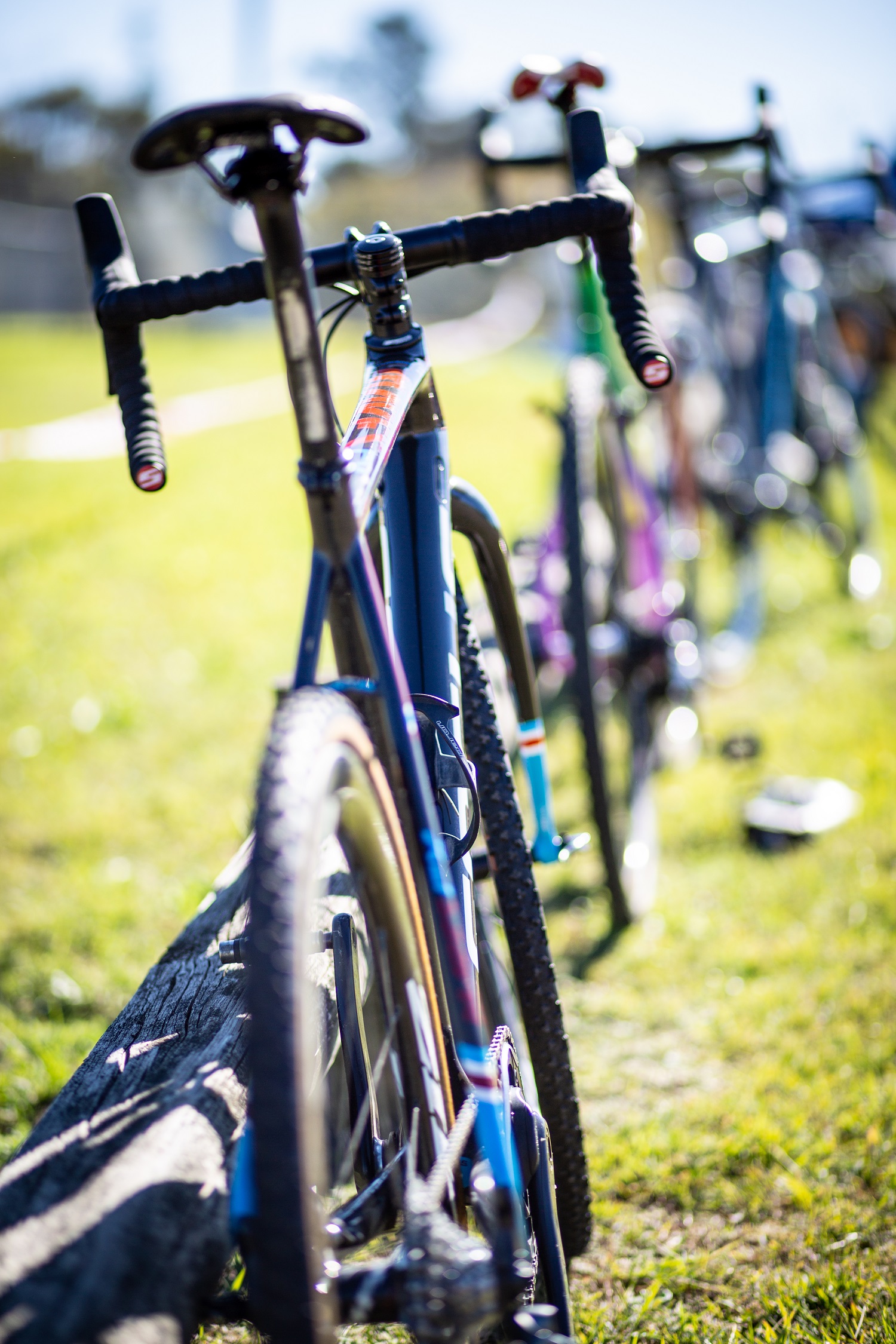 Introduction
MANLY WARRINGAH CC is pleased to announce a return to the national CX calendar after several years off the radar. We hope to showcase all the idiosyncrasies of the challenging Terrey Hills course and have negotiated with Council a no cancel race plan. This means the event will go on regardless of weather.
Parking is available but please be mindful of riders, and possible road closures on the day. Also beware of additional on-site restrictions for cars, bikes & pedestrians in the case of wet weather. Spectators are welcome around the course but always be on the look out for competitors and bikes. Entrants should check in on-site on both days and obtain their race numbers before riding on the course. In the event of wet weather the local BMX track is completely off limits.
There are plenty of warm up options on local roads as our event is outside of built up areas.
The site itself can be quite exposed and has limited cover so we ask all participants and visitors to ensure that they have the gear to match the forecast.
MWCC CX team.
Dave Musgrove, Niki Hale, Sean Couley, Grant Kepler, Jim Buda
EVENT
The National Cyclo-Cross Championships will be held on Saturday 23 and Sunday 24 June. JJ Melbourne Hills Reserve is located just off Mona vale Road, Terrey Hills.
The events will be run according to the UCI Cyclo-Cross Regulations and the 2018 CX National Season Guidelines.  The Guide takes precedence. Information related to the National Cyclo-Cross Series is available at https://www.mtba.asn.au/event/cyclo-cross/
The schedules for both Saturday and Sunday are below.
On-site registration and sign-on will open at 8:30am. National Cyclo-Cross Championship and Series entries for the Masters Age Groups & Elite/Expert/J19/J17/J15
CX Race entries close online Wednesday 20 June at 11:59pm EST. Late entries may be permitted on the day, subject to late fees and only if the category is not already full. The Hand-Up/Open/B-grade races will be open for entry on the day or online. Kids (U13) race free and registration is not required.
EVENT SCHEDULE 
RACE REGISTRATION AND LICENSING
Entrants over 12 years will require an MTBA or Cycling Australia race license. Various options are available by pre-purchase on-line, including 8 weeks free (MTBA) or 1 or 3 day licenses (CA).
There are various categories of racing, see the race schedule for times. If you have a CX bike (with drop handle bars) you are able to enter any of the Cyclocross categories. Note that if you are not yet a master and don't want to enter the Elite Category, then the Expert Category might be suitable for you.
The "Hand-Up" race is an Open Category for MTB's, Unicycles, B-Grade and any other type of bicycle other than a Cyclo-Cross Bike. You may enter  on-line, or on the day.
For the younger kids, we have categories for balance bikes, U7, U13 – races will be 5 to 15 mins each. Kids under 13 are free. On Saturday there will be a kids skills session on the BMX track. The kids CX track will be available most of the day as well.
Entrants should check in on-site on both days and obtain their race numbers before riding on the course. Present an appropriate licence and pick up your race numbers and timing tags at the registration table. The same numbers will be used both days; however sign-on is required each day. All riders must sign-in at least 30mins prior to their event start time and late arrivals may be refused.
ONLINE REGISTRATIONS
Online Registrations for the 2018 Cyclo-Cross National Series open at 9:00am on Sunday, 1st April 2018.
2018 Cyclo-Cross National Series | Rounds 3 & 4 – Terrey Hills, NSW
Online Registrations Close: 11:59pm AEDT – Wednesday 20th June, 2018.
NUMBER PLACEMENT
Each competitor will be issued three race numbers. The position of these numbers is critical to correct placing of riders in the results. While we are using a transponder system, we still rely on YOUR number to be easily read. Shoulder numbers are to be worn on the bottom of your jersey sleeves, with the numbers facing forward. The large number is to be worn on the MIDDLE LOWER BACK of the body.
'Flat Pin' each corner of the number securely so the pin goes through both the number and your jersey TWICE.  Make sure when in a riding position your number doesn't fold over or flap.  If you need more pins to secure the number and keep it flat, please ask for more.  You will use the same numbers on both Saturday and Sunday. Numbers do not need to be returned.
TIMING TAGS
Our friends at Port Adelaide Cycling Club will be providing timing services this weekend. Riders from South Australia  issued with a tag previously should take theirs to the event.
All other riders will be issued with a new tag at sign on. If you have your tag from Rounds 1 and 2, that tag will also work. You can use this on your pit bike, or leave  for PACC to reuse.
Timing tags must be mounted horizontally on the lower part of your seat post. Cable ties will be provided at sign on for this. If you are worried about scratches on your seat post, we recommend that you wrap it with electrical tape before the event or bring along bits of inner tube.
DO NOT place your tag in your sock or jersey pocket as it will not work.
DO NOT wrap your tag around your seat post – again, it won't work.  If you are likely to use a pit bike, both will need to have a timing tag.  Additional tags can be ordered for an additional $5 . Order by 5:00pm Thursday 21 June via pacc.timing@gmail.com – pay and collect at registration. Replacement tags will be issued after that date on race day for a $10 fee.
COURSE LOCATION
Racing for both days is at JJ Melbourne Hills Reserve, Terrey Hills. Car Parking is limited adjacent the site.
It is NOT permitted to drive or park vehicles onto the parklands, other than our approved event vehicles.  If you are bringing a tent, please place it in the suggested areas inside the main arena as per the course map. Unload/load your tent from near the gate during bump-in times only (i.e. before 8:00am and after 4:00pm) and leave to park your vehicle, then return to set-up your tent site.
SATURDAYS COURSE
SUNDAYS COURSE
TRAINING ON COURSE AND WARM UP AREAS
There are two official practice periods – listed on the schedule for each day. It is not permitted for riders to train or warm-up on course outside of the official training periods or while a race is in progress except during the 'Kids" event on the sections of the course not being used for this race. Riders must have signed on and have a race number visible during the warm-up sessions.
JJ Melbourne Hills is a multi use facility shared with Horse riders, the local BMX club, and an Archery club. We ask all riders to respect the facilities of each group specifically the BMX track which is very rain sensitive.
Riders are reminded of MTBA National Technical Regulations which state that penalties may be applied to a rider who shows "…negligence with respect to the land on which a race is being conducted…" or "…proven disregard of land use policies set by official management…"
START AREA / RIDER CALL-UPS
A staging area will be designated behind the starting grid. Riders must present to the staging area 10 minutes before the start of their race and will be called to the line one by one in the start order. In the National Series and Championship events, the start order will be as described in the Series Technical Guide. In the support events, riders will be started in order of registration.
Bicycles will be inspected in the staging area and riders may not take the start if their bicycle does not comply with the regulations. If a rider is not present or their bicycle is not compliant they forfeit their call-up position in the grid and may only proceed to the line when they present and/or their bicycle is approved.
There will be no call-up for the Kids race.
PITS
The race course will have a double pit area. This is the only area where riders may receive technical assistance and change wheels and/or bicycles. Spectators are not allowed in the pit area. Racers should not gather in the pit area except to receive service. A Neutral Service may be provided but not relied upon.
FEEDING
Feeding (handing up of food and drink to riders by support staff) is not permitted, unless the Chief commissaire specifically announces that feeding may take place. This can be expected when race-day temperatures are likely to reach 20 degrees. In this case, feeding will be allowed from the pit lane only. This does not forbid carrying or consuming food and drink during the race.
AWARDS
There will be two awards ceremonies each day. The first will take place during the second 'Open Course' (lunchtime) for the placegetters in all morning race categories. The second will take place at the conclusion of the Men's Race for the top 5 finishers.
ANTI-DOPING
All races will be conducted under Cycling Australia, MTBA and ASADA regulations.
MEDICAL INFORMATION FIRST AID
First Aid services are provided by Pink First Aid, you may seek assistance at the first aid tent as required.  Graham Carney and his crew can be contacted at Pinkfirstaid.com
The nearest local hospitals are:
Mona Vale Hospital
Royal North Shore
FACILITIES
Facilities will be provided JJ Melbourne Hills has a public toilet facility adjacent to the race area.
Vendors will be selling food and drink both days. Please support those who support our events.
Confirmed Vendors:
Gozleme.
Coffee Van
There will be a limited bike wash facility provided for these races. Competitors are encouraged to bring a bucket and other washing equipment for use in the pits and to clean equipment after the event.
CYCLO-CROSS NATIONAL SEASON GUIDELINES
Please refer to the 'PUBLICATIONS' tab of the MTBA website for the latest version of the Cyclo-Cross National Season Guidelines.
PRIZE MONEY & AWARDS
Information on prize money and awards for the 2018 Cyclo-Cross National Series have been published in the 2018 MTBA Prize Money & Awards Guide.
Please refer to the 'PUBLICATIONS' tab of the MTBA website for the latest version of the MTBA Prize Money & Awards Guide.
2018 CYCLO-CROSS CATEGORIES & ENTRY FEES
Elite Men & Women –                                    $45.00
Expert Men & Women –                                $40.00
Junior (Under 19) Men & Women –              $20.00
Under 17 Men & Women –                            $20.00
Under 15 Men & Women –                            $20.00
Masters 1 Men & Women –                           $40.00
Masters 2 Men & Women –                           $40.00
Masters 3 Men & Women –                           $40.00
Masters 4 Men & Women –                           $40.00
Masters 5 Men & Women –                           $40.00
Masters 6 Men & Women –                           $40.00
Masters 7 Men & Women –                           $40.00
Masters 8 Men & Women –                           $40.00
Late Registration Fee –    $25.00
Race Day Licences   Fee
Race Day Licence <19 years of age –    $18.00
Race Day Licence >19 years of age    –    $30.00
Recreation Upgrade  –    $15.00
Open races – $20
General Information
Event Location.
The venue for this event is JJ Melbourne Hills Memorial Reserve, Terrey Hills, New South Wales.
There is no public transport available to the venue. We suggest that the best way to get to this event is by car.
Restaurants
The Terrey Hills Tavern is nearby. Bookings are recommended.
Also in the area is The Sandstone Café, and you can find Chinese, Thai and German options too.
Getting Around                                                          
For visitors arriving in Sydney by plane, there are a couple of transport companies that operate shuttles from the Airport to the Northern Beaches. These are:
Aiport Shuttle North  – 1300 505 100 or www.asntransfers.com
Collaroy Airport Transfers – 02 9984 1420 or email: collaroyairporttrans@bigpond.com
Northside Shuttle – 02 9939 4599 or email:  enquiries@northsideshuttle.com
Terrey Hills is located in the Northern Suburbs of Sydney so you will need to allow time to travel to and from your destination. If you're transporting a bike you might consider hiring a car.
Supermarkets
Terrey Hills Friendly Grocer
2/4 Booralie Road, Terrey Hills NSW 2084
Open Sat 8.30 am – 7pm and Sun 8.30 am – 6.30 pm or 8.30 am – 7.30pm weekdays
ForestWay Fresh
2 Myoora Rd, Terrey Hills, NSW 2084
is open Mon – Sun  7am – 6pm
Woolworths at the St Ives Village
166 Mona Vale Road,  St Ives, NSW 2075
Woollies is open Mon – Sun  7am – 10pm
Harris Farm is also located at the St Ives Village
Billeting
If you are assistance with accommodation and are interested in Billeting, then please get in touch via the Manly Warringah Cycling Club Event Page.