If you aren't making the trip up to Bathurst to ride the cyclo sportif with your basket on the front of your bike, then you can race closer to home at the famed MWCC Akuna West Head Road Race. With a race history that is as rich as the Tour of Flanders and victories recounted in cycling folklore,  this will be the place to race on April 12. Last month it sold out by Tuesday afternoon, this month who knows…..
With the break in between the Tour of Flanders and Paris Roubaix, this is a great race to maintain that racing form in between these two events, whether you race in them or watch them on the couch.
Entries open to MWCC members on Sunday 5th April at 5pm at www.trybooking.com/EQVY with all other riders able to enter from 12:01am on Tuesday 7th. Even riders such as Luca Paolini, Lars Boom and Peter Sagan will have to use the online entry system to enter on the 7th. Day licences can also be purchased via our online system.
The entry fee is now $20. The $5 increase goes directly to National Parks with their increased user fee. MWCC return 50% of the remaining $15 in prize money to riders.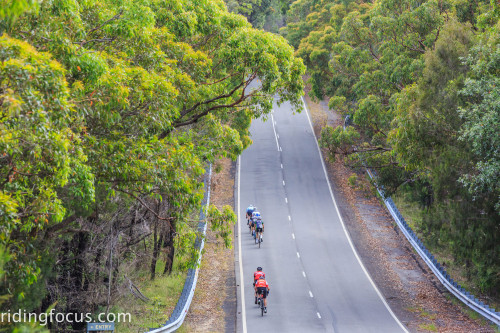 The echelons form on the road similar to Gent – Wevelgem
Unless you are racing in A Elite, the only kit that can be worn is your registered club kit. If you do not have club kit from your club, then riders are to wear a plain white or black jersey to the race, perhaps you could ask a club member if they have a spare jersey? Riders who wish to race in private team jerseys can only race in A Elite. If you do not wish to abide by this rule, then please do not enter because you will not be granted a race number and your entry will not be refunded.
This rule does not apply to Women's Teams or Women's Development Teams or Qualifying Junior Riders.
GRADING
A Elite is a 3 lap race that will start at 7:20am. This grade is suitable for those riders who are strong A Grade riders in other races across Sydney, riders who are riding in either NRS teams, development teams or private race teams. Riders should be experienced and are looking for a very competitive and high class field. This is the only grade that riders are allowed to wear non club jerseys.
A Grade Club Level. This will be a 3 lap race. This grade is for those who would like to make the step up to A Grade Elite but do not yet have the ability or have tried to race our A Grade previously but found the pace too much. This would be for your lower level A Grade rider. Riders are required to race in club jerseys.
B Grade is a two lap event. We have two B Grades – they are identical, they just have the names Shimano and SRAM in order to identify the different groups. We have these groups due to demand and size restrictions. There is no difference between these grades, both of them will race from the bottom of Akuna Bay. Riders are required to race in club jerseys.
C Grade Prestige is a two lap event. Prestige is a 2 lap event that races from Akuna Bay in previous months this would have been Shimano or SRAM. Riders are required to race in club jerseys.
C Grade Hubbard is a two lap event with a neutral climb up from Akuna Bay. Racing commences at the turn off to West Head. This is for riders who are looking to make the step up from D Grade or found the pace of C Grade too much in previous months but would like to race two laps. Riders are required to race in club jerseys.
D Grade is a single lap event. This grade has a neutral climb up Akuna. This is a great entry level to racing, it is popular with some of our more senior riders and those who are new to racing. We also have a number of our female riders entering this grade. This grade is as much about racing as it is learning the craft of racing. Riders are required to race in club jerseys.
ALL GRADES WITH THE EXCEPTION OF D GRADE AND C HUBBARD WILL BE RACING FROM THE AKUNA BAY START LINE
All riders must show a current 2015 Gold Racing Licence or purchase a One Day Racing Licence and an approved Australian Standards Helmet at the sign on.
Our Subaru Road Race will be signing on from 7am for all grades down at the Akuna Bay Marina. If you pre enter please ensure you arrive at a minimum 10 minutes before your race start. There is plenty of parking available in the Akuna Bay car park and toilets are available.
Please ensure that you use the toilets inside the marina complex. Behind a tree is not a toilet.
If you haven't raced before but are considering it – our guide to entering may be of some assistance. https://manlywarringahcc.org.au/news/racing-how-to-enter-and-what-to-expect-a-beginners-guide/
Our prestigious road race can send your heart rate rocketing from the roll out, so we do encourage riders to be warmed up and recommend that you consider parking around Terrey Hills and riding into the park, to ensure that you have had a good warm up prior to race start. Please be cautious on the descent down into the Park.
The finish line and presentation area is located at the Elvina Walking Track Car park on West Head Road.
We would request that you do not park in the Elvina Walking Track car park – this not only assists our marshalls when they head up there to set up for the finish, but also assists with our relations with the National Parks. This also gives riders more room to hang around in post race.
Essential Details:
$20 Entry – with a Gold 2015 licence. Day licences additional $30.
Race Date: 12 April 2015
Sign on from 7am and Race Start 7:20am for A Grade Elite – D'Albora Marina, Akuna Bay
Grades A-D – All clubs and riders welcome.
All riders to be racing in their club jersey unless in A Elite.
PRE ENTRY DETAILS
MWCC members can enter from 5pm Sunday 5 April, all other riders from Tuesday.
By pre registering, you are ensuring your entry and then on the day you will just turn up a minimum 10 minutes before race start, sign the sheet and grab a number. If a grade is advertised as sold out, that is exactly what it means – no spots will be available on the day.
Please note that our races are raced on open roads. This means that riders must not cross over the centre line during the race. This can lead to disqualification. Please consider your behaviour and actions when both riding to and from the race and also during the race. Your actions impact on all users of the Park and also our ability to gain approval for our races. Our officials often have to answer questions based on non club riders behaviour that occur at anytime – so lets not make ourselves a target.
If you use gel or energy wrappers, please put your empty wrappers in your pockets and take them home with you. The National Park is not a rubbish dump.